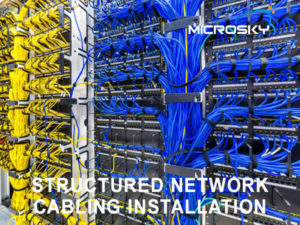 Structured network cabling installation has become an industry unto itself in the city of New York. These cable networks in homes, offices, and commercial establishments are the backbone of every place where technology is being used for entertainment or transfer of data over the web. Structured network cabling installation NYC is a complex job undertaken by many companies in the city.
Structured network cabling is distribution of cables that connect various electronic and digital devices like cameras, computers, printers, scanners, mikes, and fax machines. Structured network cabling and installation is also referred to as voice and data cabling, Ethernet cabling, and structured cabling. The main purpose of structured network cabling and installation is to establish and maintain a network.
What are the structured wiring installation standards?
Commercial Building Telecommunications Wiring Standards defines standards for structured wiring installation. These standards must be followed by the company or expert creating a data network carrying audio and video signals. Cabling standards for performance and technical criteria are also defined by this institution. The name given for these standards is TIA/EIA-568-A-1995.
What are the tips in installing structured cabling?
Structured network cabling is a complex and highly specialized job that is carried out by licensed and experienced electricians in New York. Here are some important tips to keep in mind when creating a network through structured cabling.
Indulge in thorough planning
Planning the key to success in structured cabling. Once you have understood the job and rehearsed it by drawing the diagrams of your network, it becomes easier to translate your design into reality.
Data and voice transmission cables should be same
This is an important thing to keep in mind. Make use of the same cable for voice and data transmission to maintain consistency in quality.
Management of cables
Management of cables is the first thing that is taught to electricians doing structured cabling. If you have knowledge about cable management, you will be able to executer your network easily and efficiently.
Keep electrical cables separate
One very important tip when doing structured cabling is to keep electrical cables separate from voice and data cables. This ensures no disturbance and interference from electrical signals in voice and video network.
Keep the length in mind
You can use only a certain length of cables in structured cabling and your job becomes efficient when you know the limit of this cable length.
FAQs
What are the benefits of structured cabling systems?
Structured cabling has become very popular these days because of its high performance and efficiency. It is being used in all industries as it is inexpensive and produces wonderful results. It is a highly reliable and cost-effective way of creating a network. Here are some of the most important benefits of structured cabling.
Future proof investment
One of the positive features of structured cabling is its high band width which means that it supports the future business growth without additional expenditure. Structured cabling is not only scalable but also adaptable to make it respond to any changes taking place in the industry.
It is a very simple system of networking
Structured cabling is believed to be one of the simplest of all cabling systems. It is simple, straightforward, and looks quite elegant when done in an office or a restaurant.
Inexpensive
Clients love structured cabling because of its cost-effective nature. It requires little investment upfront and allows the business to cope with future growth.
Very flexible
Flexibility is the hallmark of structured cabling. It is adaptable and scalable and helps in improving the performance to lead to success of the business.
Very high uptime
This is another important advantage of structured cabling. There are virtually no disruptions in the network created with structured cabling and troubleshooting is easy whenever an issue is found in the network.
Which cables should never be used in a structured cabling installation?
Experienced electricians know that structured network cabling installation NYC should never be done using D coax cables.
Why is structured cabling important?
Structured cabling is important and highly popular among the customers because it is simple, flexible, adaptable, and scalable. It helps in the growth of a business. Troubleshooting is very easy in structured cabling and it is known for highest amount of uptime for the business.
What are the six subsystems of a structured cabling system?
Structured cabling is a simple and very cost-effective way of drawing a network. This system can be divided into 6 subsystems that are interconnected and help in providing a high-performance cable network.
Work Area
Backbone cabling
Horizontal cabling
Equipment room
Telecommunication room
Entrance facilities
How to choose the right structured cabling installation company?
There are many structured network cabling installation NYC providing their services to clients in diverse industries. All these companies claim to be the best in business, making it difficult for a customer to find a company that is perfect for his requirements. If you are looking for a structured cabling installation company, you should conduct a search on Google for the best structured cabling companies in New York. You can then check out their experience, portfolio, and the reviews given by actual clients to learn more about their quality of work.
If you are desirous of a high-quality cable network in your business to support your IT infrastructure, there is no better system than structured cabling network for you. It is simple, flexible, and very cost effective. MicroSky is the leading structured cabling service provider in New York these days. It can carry out structured cabling in your premises to deliver a high-performance network in a very cost-effective manner. Call at 718-672-2177 or email at dmartelle@microskyms.com today to book an appointment with our representative. You can also email us at Microskyms to get a quick response from us. We can set up structured cabling in the most efficient manner in very affordable prices for your business.
Get in touch
Whether it be phone, email, or in person, we are always here to help. Call us or simply fill out the contact form to get started.
MICROSKY MANAGED SERVICES, INC.
OFFICE HOURS – APPOINTMENT ONLY
Monday – Sunday | 8:00AM – 8:00PM

After Hours Support (Website/Email)

Monday – Sunday | 8:00PM – 8:00AM