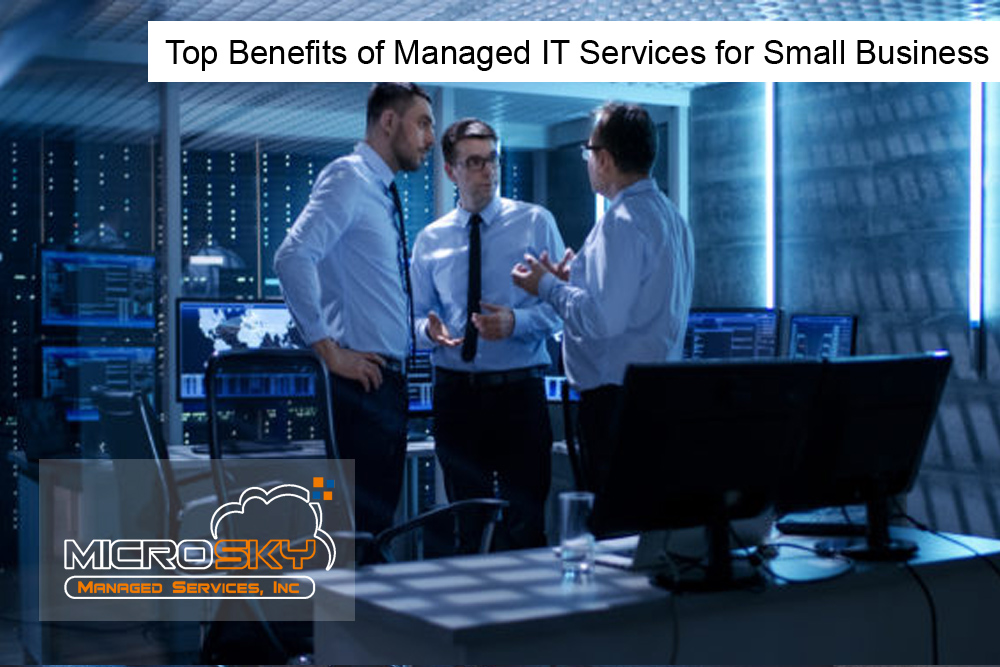 Running a small business is hard work. It would be beneficial if you were on top of all the latest trends and technology, or your company could quickly fall behind. The best way for small businesses to stay ahead of the curve is by hiring an IT service provider. Here, we shall talk about the benefits that managed IT services offer for small businesses and why they are worth considering when looking at options for keeping up with technology in today's world.
Benefits of Managed IT Services
1. Improve Security & Stability
With managed services, you can provide the necessary service for your data and apps remotely. These facilities are usually located in a virtual server environment that follows international security control standards to ensure an unexpected natural disaster or fire at home base. All necessary information will still be safe with providers who have established plans in place should something go wrong while they're off-site. IT service providers also alert customers to any security risks, especially those detected on business devices.
2. IT Professionals Can Perform Task Which Your Staff Can't
Implementing new software requires learning a skill set that's only needed once. You can invest time and money in training your in-house staff each time the program is implemented. On the other hand, the MSPs take charge of these situations with their specialized skill sets for implementing solutions quickly without all those pesky long hours from employees who have been doing it wrong this whole while!
3. It Can Help Ensure Compliance
The rise in consumer privacy concerns is leading to increased security for financial data. The rules and standards that help protect individual rights are essential, as they keep businesses from being fined or losing customers over non-compliance issues. Managed IT services can shift compliance by providing trained experts who ensure your technology systems adhere to national/international laws. This governs most business sectors today like eCommerce retail, healthcare education finance service industry, legal government, and more.
By investing in IT services, you are positioning your company for success while giving yourself less work to handle daily so you can dedicate your time to other aspects of the business that need attention.
4. Reduces The Complexity Of Remote Or Flexible Working Arrangements
IT service management and centralized networks reduce overall infrastructure costs, ensuring employees have the same technology experience no matter where they work. From your office to a satellite location or from home, accessibility is ensured for all users with consistent speed and security features across multiple devices.
The advantage of this approach is twofold: it reduces operating expenses by automating mundane tasks such as setting up new computers. Secondly, because everything runs centrally, there's less risk involved when something goes wrong since central operations can troubleshoot any problems more quickly than if responsibility rested locally without support staff available 24/7 at every site.
5. Sets You At The Forefront Of Your Industry
Your managed IT service provider is constantly learning and training so that they can stay on top of the latest trends in technology. You will enjoy all these benefits, plus an additional benefit: Your company doesn't have to pay for expensive upgrades or ongoing maintenance fees like you would if it were up to your old system administrators!
6. The Comprehensive Approach Simplifies Operations
With your managed IT solutions and support team, you'll never be left with the worry of finger-pointing when something goes wrong. Your company has one comprehensive package to cover all their needs – from monitoring security data storage for years into the future! IT professionals love simplified IT systems for this reason.
The IT professional working on your network can also identify problems before they occur. They keep the employees up-to-date with new programs, processes, and procedures so that you can avoid issues like system downtime or slow service due to obsolete software. Managed IT services make sure that your business is always on the cutting edge while IT professionals take on any issues before you even notice them.
7. 24/7 Service Gives You Peace Of Mind
Imagine the scenario that it's after midnight, and you're putting the final touches on a crucial presentation when your server goes down because IT staff has been home all day, but MSPs are always ready for anything! With managed services like theirs, there is a high likelihood that the network wouldn't fail thanks to them noticing before we do what was wrong with our system first hand. Imagine how much time could've been saved had they found out hours ago and been able to fix it in overtime. IT may have a remarkable impact on your company's bottom line, so it's essential to find the right IT service provider for you and your business. Managed IT services can give you peace of mind by keeping your technology up and running, compliant with industry standards, secure from harmful threats, and optimally running so you can run your business efficiently and effectively.
8. In-house IT Experts Can Emphasize Innovation
Your employee can focus on what you do best and leave the day-to-day operations of your company's IT to a professional who knows how it all works. With this in mind, we appreciate that no two businesses are alike, which is why our managed service providers have various offerings tailored just for yours!
9. Cash Flow Burdens Are Reduced
IT services are a great way to get the most out of your technology investments. Not only do they have low start-up costs and steady monthly payments, but managed IT service providers often offer discounts just by virtue that they work other aspects for you!
10. Helps Conserve Resources
With pay-as-you-go MPS, your business can scale up or down depending on how much IT services are needed. If the busiest season arrives with no need for more managed solutions, they will switch back to being self-sufficient not to burden their resources any longer than necessary! This is a massive benefit if you contract for IT services with an MSP.
Managed IT services in Staten Island, New York, are the best option for small businesses lacking in-house expertise to keep up with today's technological demands. With Microsky MS, you can have peace of mind knowing your company is being taken care of, so you don't have to worry about it! Give us a call at 718-672-2177, and we will be happy to answer any questions or set up an introductory consultation.