Managed IT Services Custom Tailored for You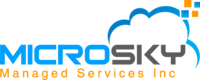 Dominic is the visionary behind MicroSky Managed Services and has made an indelible mark in the IT sector of Staten Island, New York. Launching MicroSky in 2015, Dom was not just driven by a business idea but by a greater vision. He envisaged creating an IT support system that businesses across the globe could rely upon, not just as a service, but as a trusted technological ally.
From its humble beginnings, Dom's leadership has been the cornerstone of MicroSky's growth trajectory. He understood early on that in the world of IT, a one-size-fits-all approach wouldn't do. Instead, he focused on custom-tailored solutions, ensuring that each client's individual needs were met with precision and dedication. This emphasis on personalization, coupled with unwavering commitment, transformed MicroSky from a local startup to a global IT solutions provider, serving hundreds of organizations in numerous countries.
But beyond business strategies and growth charts, Dom's true strength lies in his relationship-centric approach. His vast experience is undoubtedly a treasure, but it's his personal touch, his commitment to understanding the dreams and goals of his clients, that truly sets him apart. Under Dom's guidance, MicroSky doesn't just offer products; it offers partnerships. Every client, every project is a testament to Dom's promise of exceptional customer service, a testament to his belief that in the world of IT, success is not just about technological solutions but about genuine connections.
THE POWER OF COLLABORATION