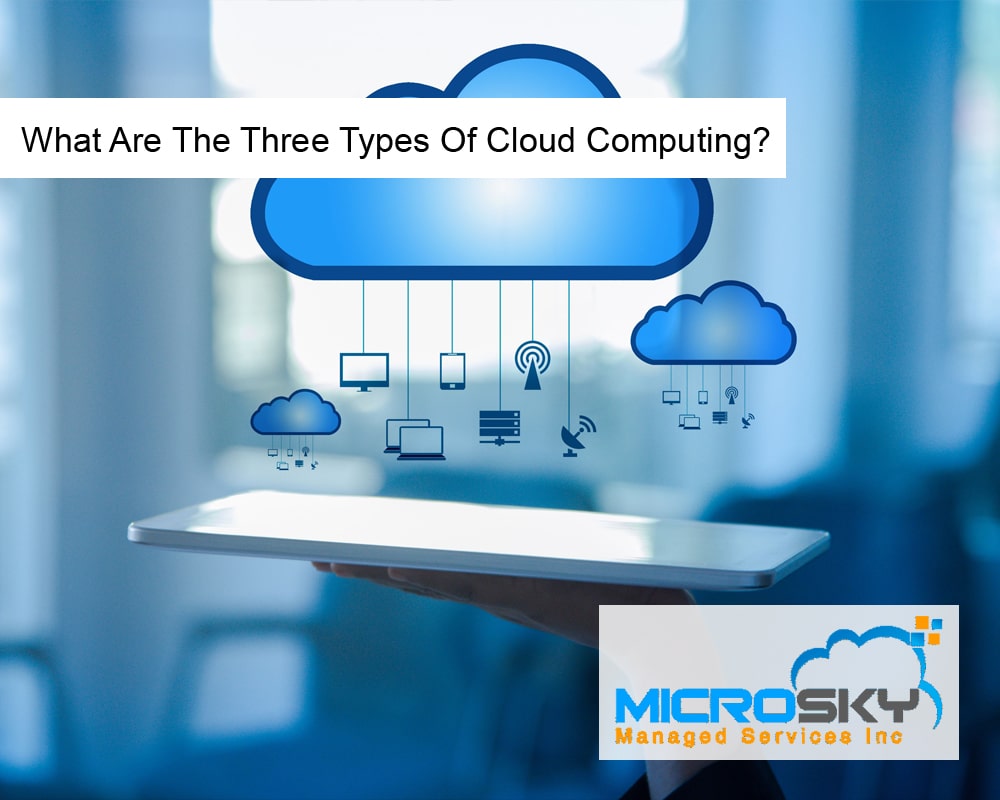 Cloud computing is a technology that allows for the processing of data and storage on remote servers rather than your computer. There are three main types of cloud computing services: Infrastructure-as-a-Service (IaaS), Platforms-as-a-Service (PaaS), and Software-as-a-Service (SaaS). Each has its pros and cons. In this article, we will discuss what they all mean!
In the modern world, many organizations are placing their data in a cloud-based environment. This offers an abundance of benefits to nearly any company for reasons such as cheaper rates and increased efficiency, among others – saving you time and money with this easily scalable measure. Cloud computing offers organizations easy access to important company data from any internet-enabled device. It has made organizations more efficient with its vast range of capabilities such as cost-saving and improved disaster recovery plans. It is understandable that businesses in all industry types may want this because it also increases security for your most valuable assets — your customer's personal information.
What Is Cloud Computing?
The cloud is a new frontier for businesses of all sizes. It allows you to grow your business while lowering the overhead costs that come with hardware, software, and physical space. You can also pay only for what you need when it comes to computing power, so whether your company has just begun or is an established industry leader—it's time to take advantage of this innovative technology!
Simply put, the benefits are fast innovation and flexible resources – meaning faster growth than ever before. The sky's the limit on how much more we can do as our world becomes increasingly digitalized in workspaces everywhere.
Cloud computing is the idea of storing your data in a remote location and accessing it from any web-enabled device. There are four types of cloud computing: public clouds, private clouds, hybrid clouds, and multi-clouds.
Public clouds offer their services to anyone with an internet connection which can be cost-effective for SMBs but also risky because you're giving up some control over your data.
Private clouds give businesses complete ownership of all servers and storage hardware, allowing them full customization on performance levels.
Hybrid clouds combine both features by utilizing a mixture of on-site resources as well as those that are hosted elsewhere (these configurations tend to work best when companies have fluctuating workloads or need different levels of security).
Multi clouds are the newest and most complex form of cloud computing that's made up of deploying solutions from different providers across multiple platforms (this is more designed for large enterprises with diverse needs).
The Three Types of Cloud Computing Services
The three types of cloud computing, SaaS, IaaS, and PaaS, have distinct differences that will help businesses decide what services they want. With these services, organizations can focus more time and energy on developing new innovative products while still being able to access all the necessary computing resources—including storage space, data processing power, security monitoring tools, etc.—needed for their product without having to invest in personnel who may not be required as often if an organization builds its private cloud environment.
Software-as-a-Service (SaaS)
SaaS is the most commonly used form, and it's basically like renting software from somebody else who does all the work for you. SaaS has a lot of the same benefits as traditional software because you can access it from anywhere with an internet connection and various devices such as tablets or phones. This type of service also allows companies to focus more on their core products instead of building out additional features in their existing product lines. Additionally, there's no need to invest in hardware or buy expensive upgrades when new technology becomes available; this all stays within the provider's servers which are constantly being updated by engineers working around the clock.
The challenge with Software-as-a-Service is that you rely on the service provider to keep your data secure with less control over how it's stored. Additionally, since most of this type of cloud computing is done in a centralized location, there can be outages or other types of disasters that could leave users without access to their product for an extended period.
Infrastructure-as-a-Service (IaaS)
IaaS provides virtualization services and storage space where companies can run any application they want from within those servers without worrying about maintaining the underlying infrastructure. This type of service also allows organizations who have been unsuccessful in building their own private clouds more flexibility by eliminating many upfront costs, including hardware investments and licensing fees—allowing them resources they otherwise may not have had available while remaining compliant with privacy regulations.
Platforms-as-a-Service (PaaS)
(PaaS is a cloud computing platform that allows developers to build, test and deploy applications without working with infrastructure software such as servers. This gives developers access to complete preconfigured systems where they can write code once and deploy it over multiple platforms simultaneously – no need to worry about building something new every time! These PaaS services allow you to create applications easily.
Who Should Consider Cloud Computing?
Cloud Computing is a rapidly evolving technology that will soon be the backbone of many businesses' IT infrastructure. It offers advantages to organizations and end-users alike, with solutions available for every size of business and individual consumers. For this reason, it may benefit you if your organization:
Needs more computing power without adding physical servers or hardware purchases

Allows users on any device to access their content seamlessly across devices and operating systems (even in offline mode)

Wants reduce storage costs by moving data from various sources into one location for cost-effective storage and backup purposes.
Just because you don't have a team of developers doesn't mean that Cloud Computing is not for you. From hosting your website to storing data, there are numerous ways in which organizations can benefit from cloud computing – and it's never been easier than with today's technology!
Contact Microsky MS today at (718) 672-2177 to learn how Cloud Computing can make your business more efficient.