Most people cannot handle their IT tasks themselves, and they need to hire a managed IT services company to do most of their technical issues. It would be best if you got a reliable and proficient provider to be sure that they will manage your services professionally. It would help if you considered the following so that you can choose the right IT services company:
Availability
A profitable, managed IT service company should always be available whenever you need them. You must get 24-hour support from your IT Company because you need to ensure that your systems are running smoothly and continuously. This way, you will know that your updates and any other IT related issues are monitored.
In case there is an issue with your technology, you need to know that your IT service company will always be available to take care of it. Your website will run smoothly so that your client will always find the information they need at any time of the day or night.
Experience 
Choosing a managed IT service with enough experience will guarantee that you will have a reliable company taking care of your IT needs. It would be best if you were sure that they know how to handle different issues. A good IT company should solve any problem you might face with your technology or running your technological department.
There is new technology coming up every time, and you need a managed IT company that will be able to keep up with every new technology. It would help if you also were sure that the company could guarantee longevity because you need to count on their service for as long as you are in business.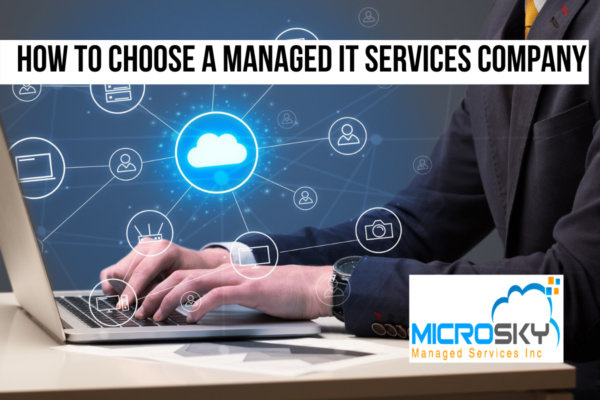 Security
Apart from your data as a company, it would be best if you were sure to safeguard any information about the people visiting and using your website. If you have clients, you may have a lot of personal and private information on your site. Your clients need to know that they can trust you with any of their information, and this is only possible if your IT service provider keeps your data safe.
Ask the company about the security structure and how they intend to use it to protect your information. It would help if you were sure about this important issue because you need to minimize the risk of cybersecurity threats. If you have any doubts about your information and security, you need to choose a different IT service provider that you can completely trust.  
Insurance 
Check if the provider is insured because this will ensure that they will pay for any mistake. A policy is available so that a managed IT service provider can adequately compensate you if they make a mistake that financially affects your business.
Apart from any of the above, it would help if you also could afford the provider. They should have a workable billing structure for you that you can work with and can comfortably pay. Look at the contract you have with the company carefully before you sign with them and agree to any terms before you can start working together.