An organization's IT infrastructure is critical to its success. It's no wonder, then, that so many businesses turn to IT services and IT consultants for help in keeping their systems up and running. But what's the difference between these two types of providers? And which one is right for your business? Keep reading.
What Is IT Consulting?
Let's start by explaining what IT consulting is. It is easy to understand the roles of IT consultants by looking at the role of the consultant as a whole. Consultants are people who can advise on all types of career fields. Your IT consultant should be an expert in all aspects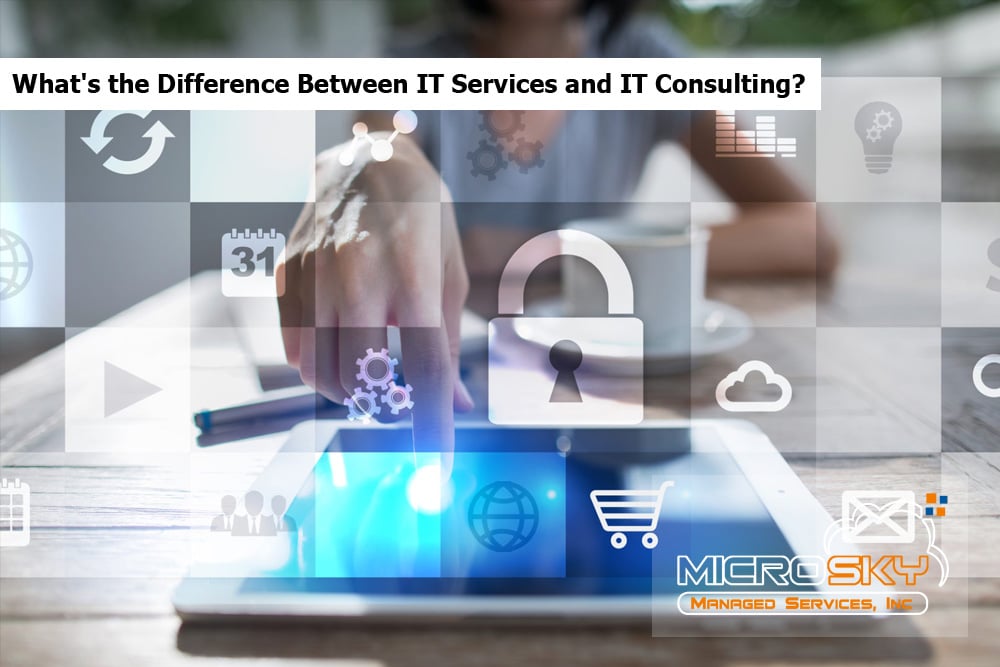 of computer technology.
A firm offering this service might also refer to it as IT consulting. We mentioned in the introduction that the role of the IT consultant or team is to assist your company in achieving its tech goals. The consultants' expert advice and coaching will help you achieve your goals. The consultant will listen carefully to your concerns and create a solution tailored to your specific situation.
If you decide to proceed, your IT consultant team will work with you to develop, implement, and evaluate your strategy. You will be given a time frame and a quote by the consultant. The project should be completed only after the issue has been resolved.
IT consulting may be multi-faceted, depending on the company offering it. It might involve several professionals or teams. If your concern is data security or another area of protecting proprietary information, you may only work with IT, security consultants.
A staffing company can help you find the right IT consultants if you require more assistance or work in a team. Partnering with independent consultants is also possible. Some of these consultants are part of staffing firms, while others work independently or freelancers. Professional servicing firms can also be used, but the work cost may be more than other methods.
How might IT consulting fees work? You may be charged for the number of consultants you have if you work with a team. Others charge by how many days you work together. Another option is to pay a fixed fee. This pricing structure is usually applicable to infrastructure capacity planning, network design, and refreshing infrastructure.
What is IT Services?
Your company may also consider IT services, either in addition to or instead IT consulting. IT services, also known as ITSM or information technology service management, generally cover software engineering and IT management areas.
Your IT services professional will help you solve your technical problems. These issues might arise while working towards your IT consulting objectives or between projects.
These are some of the services you may receive in the IT services realm.
Computer Training
You might have staff with different levels of IT savviness. Basic IT services such as computer training can be requested to get your staff up to speed and do their best work every day in your office. This will apply if your company has just switched from Windows 10 to Mac or vice versa, or if you have to upgrade to new software.
Managed Print Services
Your office likely has several printers. However, it can be challenging to get them all working together. Managed print services, which fall under the IT services umbrella, can help you get your printers working as they should.
You'll be able to print documents quickly, regardless of whether managed print services require you to update printer drivers, replace older printers, and upgrade the framework that printers rely upon. Managed print services also include other related devices, such as scanners and fax machines.
Help Desk Support
If you or your employees have questions about certain tech elements, the help desk support section under IT services is your best option. Help desk support can be provided for Wi-Fi, network connectivity, and printers.
Network Security
Your company's network security should be a top priority. IT services can help keep your network secure from hackers, spammers, and data thieves. You can also protect your network from trojans and other viruses such as browser hijackings, web-scripting viruses, and others.
Your IT professionals might perform network security IT services such as checking your network and adding a VPN. They may also use web filtering and patch management, place firewalls, and install new antivirus software.
Backup Recovery
Data loss can happen at any time. You can have your files backed up to multiple places as part of IT services. However, if you have lost important files or documents, a computer wiping can prove to be very costly. Your IT pro can help you if files are accidentally deleted. They can also assist you if there is a virus on your computer, a fire, flood, or if your computer stops working.
Cloud Services
Cloud services are a modern option that many businesses use. The cloud allows you to store files securely in the cloud. Cloud-stored files can be accessed easily and are scalable to your business. IT services are available to help you set up your first cloud system or manage cloud files.
IT Consulting
It can be unclear, but IT services sometimes include IT consulting. However, IT professionals may offer IT consulting as part of their IT services. This doesn't necessarily mean that IT consultants will also provide other IT services.
Instead of hiring an IT consultant, your IT service provider could take over the role. This will save you money as you only need to select one of the IT services or IT consulting that you may be interested in.
IT Consulting VS. IT Services?
We've now discussed IT consulting and IT service. Let's dive deeper into the differences we described in the intro.
IT Services are less strategy-based than IT Consulting.
It's to create or upgrade your company's technology strategy. Your IT consultant will help you to complete your long-term and short-term plans.
This is similar to IT services. These services are about creating a strategy. This is especially true if you use IT consulting within the IT services realm, but not always. Training your staff on new software is not part of an overall strategy. This is mainly so that your employees can continue to be productive.
This doesn't mean IT services can't be part of your strategy. It's possible for them too. This is especially true in the areas of cloud computing and data security. For example, if your Wi-Fi goes down and you need help, this IT service should not be considered part of a strategic plan. It can be both.
IT Services bring the plan to life.
Although IT consultants have been trained in technical language and advisory languages, they are more business-oriented than tech experts. They excel in areas of communication and management. They can help you design your IT strategy and monitor its progress, but they cannot carry out all elements of it.
Your IT consultant may help you realize that cloud computing is necessary for your company because your computers are outdated and your hard drives are full. Perhaps your consultant recommends data security because of several breaches last year.
IT services could be used to create a plan and then execute its elements, as we have already mentioned. Your IT consultants might not always provide these services. Instead, they may use third-party IT services to get your required services.
IT Consultants may be less able to do.
This shows that IT consultants cannot do all the tasks required to implement your company's technology advancement plan. This may be because some IT consulting firms have more business skills than technical ones. However, even though they can't do everything, IT consultants can point you in the right direction of someone who can. This could be a trusted individual or firm.
IT Consultancy is More about Building Relationships
The last difference between IT consultants and IT service providers is their level of relationship building.
A good working relationship between an IT consultant and you, the client, is essential. They want to be the person that you call when you have any tech questions or concerns and not a third-party IT service provider. As you want to build a good working relationship with your consultant, this bond should be warm and cordial.
If you have a bad relationship with your consultant, you won't want to contact them when you need it. You will also be less inclined to accept the help they offer. If things get worse, you may wonder why you hired them in the first place. They may not be available anymore.
However, this doesn't mean that IT services build professional relationships. Trust in your IT professionals if you have one or two trusted IT pros at your company. They will also be available when you need them. But, IT services are not dependent on building relationships in the same way as IT consultants.
Takeaway
IT consulting involves creating a plan to improve certain areas of your company's tech. Your consultant is available to answer questions and address concerns. It will also guide you through the necessary steps to success.
Cloud computing, printer repairs and restores, backup recovery, network security, and everyday troubleshooting are just a few of the IT services available. IT services may sometimes be integrated with IT consulting.
You now have the knowledge to choose the right service for your company. All the best!
IT services and IT consulting are two different things with different purposes. When you're looking for help to manage or improve your technology, it's important to understand the difference so that you can find the right provider. Microsky MS provides IT services to small businesses in Staten Island and the surrounding areas. We offer a range of services, from network setup and support to website design and development. Contact us today at 718-672-2177 for a free consultation if you need help managing your technology.