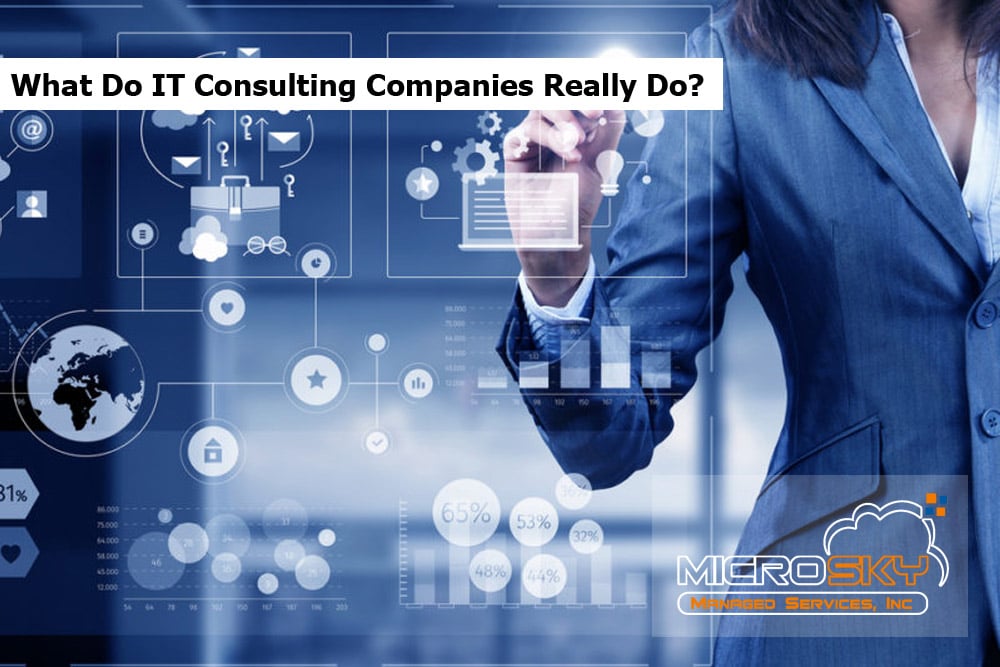 What do IT consulting companies do? IT consulting is a multi-million dollar industry that's been around for decades. IT consultants are experts in information technology and offer services to businesses on an hourly or project basis. These professionals provide advice and guidance to help their clients with IT-related decisions. They also offer advice on how to improve their IT infrastructure and any related aspects such as security, data backup, disaster recovery planning, and more. This blog post will explore the different types of IT services that IT companies offer.
Overview about IT Consulting Companies
IT Consulting Companies are experts in the field of Information Technology. They provide a wide range of services, including Cloud and Managed Services, IT Infrastructure, IT Security, Web Design, and Development, to name a few. IT consulting companies work with clients in various ways, but the goal is always to improve business performance through new technologies or update existing systems. 
What is an IT Consultant?
IT Consultants are IT professionals who provide IT support, IT advice, and IT strategies to organizations. They assess the client's IT infrastructure needs and then recommend IT solutions that suit their specific requirements.
Consultants are often specialists with advanced degrees who have mastered skills necessary to meet organizational goals such as network security or data warehousing—not just someone with a computer science degree. They work closely with senior executives at large corporations to identify growth opportunities by leveraging new technologies, improving customer service through more efficient use of resources like web applications, or creating streamlined processes using collaborative tools.
What they do:
IT consultants help you solve your IT problems by providing problem diagnosis, solution design, and implementing the solutions for your business needs. In order to provide these services, IT consultants must possess skills in leading a wide range of disciplines, including software development, cloud computing, data analytics, or networking – depending on what the customer's issue may be. They also work with customers' staff to ensure their company goals are met while ensuring everyone stays within budget constraints. 

The main goal for an IT Consultant is to solve problems; it is helping create opportunities by identifying areas where there has been room for improvement. IT consultants can find inefficiencies and help level the playing field for businesses that may not have access to IT professionals on a full-time basis.

IT Consulting offers business solutions but can also assist with organizational efficiency by streamlining processes and improving collaboration between teams. This means IT consulting is most valuable when it is tailored specifically for your needs – addressing specific pain points or opportunities while providing measurable results over an agreed-upon period of time.

Educate staff about how technology can help them work more efficiently and productively—whether it be using social media tools to keep up-to-date on current events or share information internally, integrating mobile devices into daily tasks such as scanning barcodes which saves time at checkout lines outside stores or desktops operating wirelessly to save IT costs and increase productivity.
What kinds of services can an IT consultant provide?
The most common type of service that an IT consultant provides is a consultation on how best to use technology for specific needs within a company's structure. Other types of consultations include allocating resources as well as evaluating software applications and hardware platforms for compatibility both internally and externally. 
Why should I hire an IT company to help me implement a new system or service in my business?
Well-trained IT consultants know how to find IT solutions tailored for specific needs and budgets, so you can rest assured knowing the IT consultant will not recommend a system or service that is out of your budget.
When you're looking into hiring an IT Consultant, make sure they understand your company's end goals. There should be alignment from their expertise as well as yours!
Who should I hire?
When it comes down to finding an IT consultant that is right for you, remember that as long as the consultation provides measurable results over some agreed-upon period of time, this type of consultative service will benefit any business looking to get ahead in today's competitive environment. 
The best way to avoid any potential pitfalls when hiring an IT company is by finding one who approaches each client with their individual needs in mind. This includes taking on projects within deadlines and sticking to estimates from the onset.
If you need IT consulting services, talk about their service offerings and how they can tailor their services specifically for your needs. IT Consulting Services are most valuable when tailored to the organization's end goals, making sure there is alignment from both parties!
IT Consulting Company in Staten Island
If your company is looking for an IT Consulting in NYC that can help with any aspect of your business's technology needs, then contact Microsky MS today! We will get you connected with an expert who can answer all your questions about best serving your organization.
It doesn't matter if you're starting from scratch or need some consulting on what direction to go next – our team has the skills necessary to take care of everything, so you don't have to. Call now, and we'll answer all your questions, so you're sure that we're right for you.